100% SATISFACTION GUARANTEE
Within the terms of
our 10-year Warranty
Contact us for
additional information

We offer a
GREAT VALUE
with our
REASONABLE PRICES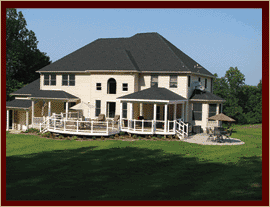 GOT DECK ENVY?
Add equity and elegance to your home with a brand new deck from the area's premier deck builder.

Call 443-752-3455 for an appointment or email John at john@welcomehomedecks.com.
Located in Harford County, Maryland.
LOWEST PRICE GUARANTEE!
We will beat any quote for the same deck! All specifications must be the same (size, materials, shape, construction details) and the quote must be from a licensed deck builder. Call John today at 443-752-3455 and tell us about your project.

WELCOME HOME DECKS RECIEVES 2009 BEST OF FOREST HILL AWARD!
Welcome Home Decks has been selected for the 2009 Best of Forest Hill Award in the Patio & Deck Builders category by the U.S. Commerce Association (USCA). Read More...





CALL TODAY FOR
A FREE ESTIMATE!
443-752.3455




Ready to put your money where it will do the most good? Invest in your home! To get you started, we're offering 10% off any outdoor project. Print out the coupon and call to schedule your appointment for an estimate!